WSD's eToolBox Wiki has been nominated for the Best Educational Wiki in the 2008 Edublog Awards, aka "The Eddies".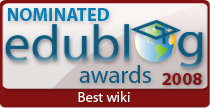 To brag or not to brag, that is the question.  It took me a few days to decide to post this shameless self-promotion, but you know what, why not?  I'm proud of the nomination and I work hard on the eToolBox.  I deserve it! 🙂
Please click the image to vote for the eToolBox.