This morning as I was enjoying my snowy morning with coffee, email, blogs, and other Internet browsing fun, this tweet came through from @TeachaKidd aka Lee Kolbert:
I like to join in when I have time, and I had time this morning, so I navigated over to the site.  Wow – what an awesome collaborative tool!
From their website:
Stixy helps users organize their world on flexible, shareable Web-based bulletin boards called Stixyboards. Unlike most personal productivity or project management software, Stixy doesn't dictate how users should organize their information. Users can create tasks, appointments, files, photos, notes, and bookmarks on their Stixyboards, organized in whatever way makes sense to them. Then they can share Stixyboards with friends, family, and colleagues.
In a nutshell, Stixy is a collabortive work space where you can add sticky notes, documents, photos, and calendar todo items.  However, there is much more to it than that.  Some great things I just discovered in a few minutes of exploration:
It's free.
There are no account sign-ups required.  You can register for free but accounts are not needed to leave notes or collaborate on "Stixyboards".
All you need to do is provide the URL to your friends, family, colleagues, and students to have them begin collaboration.
Adding elements is very easy and intuitive.
There is an integrated calendar system that you can use to join all your events together from all your different stixyboards. Their calendar can also be synced with your favorite calendar program.  This feature is in beta-testing and is not accepting any new users, but the site says it will be open in just a few weeks.
Here are a few screenshots from their "About Stixy" section to give you an idea of what you can see and experience with Stixy.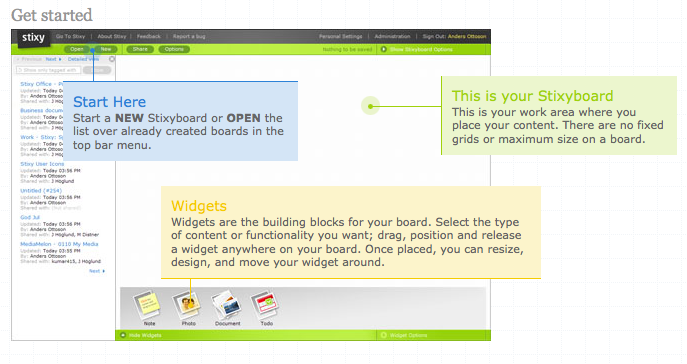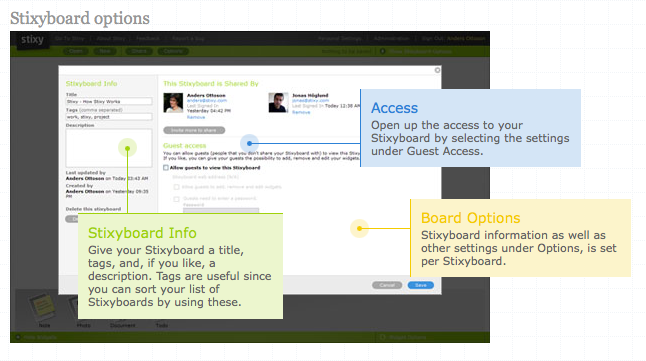 As you can see, this is quite a powerful resource. I have created a Stixyboard for feedback on this tool. What are educational uses for this collaborative space? Visit my Stixyboard and leave ideas and comments!! (http://www.stixy.com/guest/36457)