Our latest foray into WMS's MakerSpace was not only festive fun for the upcoming Halloween holiday but also in support of next week's school-wide celebration of Red Ribbon Week.  The theme of the week is "Say Boo to Drugs", so we took that theme to the MakerSpace with a frightful challenge for our 6th grade innovators.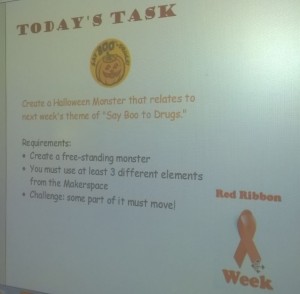 The Task – Create a Halloween Monster that relates to next week's theme of "Say Boo to Drugs."
Requirements:
Create a free-standing monster
Must use at least 3 different elements from the MakerSpace
Challenge:  some part of it must move!
The students were told that they would have about 30-35 minutes to work, and then each group would present their monster.  After the presentations, each student would vote on the "Best" monster via a Google Form.  Not only were they given an awesome challenge, but there was a bit of a competition as well.  They were psyched!
The students were grouped into triads with a random group generator and were told to first talk with their teammates about a plan for their monster before heading for the supplies.  The groups were abuzz with ideas on how to tie in the theme, how to make their moster move and how to add elements of unique creativity.  They were communicating, collaborating and using valuable negotiation skills as they shared their ideas and listened to their classmates' ideas in turn.  These students have already been to the MakerSpace twice, so were pretty well-acquainted with the items in our space:  Lego, K'Nex, Sphero robots, Romo robots, race track, magnetic building blocks, Little Bits, Snap Circuits, arts & crafts, and other miscellaneous things.  They quickly came up with their plans, had them ok'ed by their teacher and off to the supplies they went.  As the classes are 60 minutes in length and we had to save time for each group to present, group voting, and clean up, they only had about 30 minutes to plan and create their monsters.  That time FLEW by and in no time the buzzer was sounding time's up!
Check out some of the creation and innovation in action:
Then it was time for the presentations.  Wow!  Not only did these monsters represent the theme of "Say Boo to Drugs", but many of them also had a story that went along with them.  We had Spheros that had taken drugs and were erratic drivers, drug users turning into Frankenstein, Lego jets shooting down a big Sphero drug dealer, mechanical K'nex monsters chasing down drug dealers, a doctor whose head was a Sphero with a paper face taped on, body and arms part of Snap Circuits and flashing lights courtesy of Little Bits, and many more innovative drug-busting monster creations!
After the presentations, the voting was on!  We whipped together the Google form below for each class to vote on what they believed was the best monster.  Best could be up to them, with no real category in mind.  It was interesting to see which monsters took the prize in each class!!
Check back next week to find out the winners in our first of hopefully many "Say Boo to Drugs" MakerSpace Monster Workshop.
Want to see more photos of this amazing day?  Click HERE to access an album with even more photos of students' monster creations!
Oh – in addition, while the students are innovating and creating, so are the teachers, including me!  My biggest challenge these days is mastering our new MakerBot 3D printer.  I've been learning how to design things via Google Sketchup and Tinkercad, but I've also been learning what happens when I change settings with items from Thingiverse.  This is my contribution to "Say Boo to Drugs"!
Happy Halloween and Happy Red Ribbon Week!!
Follow the WMS MakerSpace on Twitter at @WMSInnovates and with #WissLearns & #WMSInnovates